Instructions
(note: the program requires your browser to support javascript)
Just click, drag and drop icons...
To form tattoo designs you just move icons. Below's an annotated screen shot showing the icons at the top of the screen, and a design area below. To create a tattoo you'll just click, drag and drop icons to the design area. The screen shot shows the result of combining 7 icons into a simple tattoo.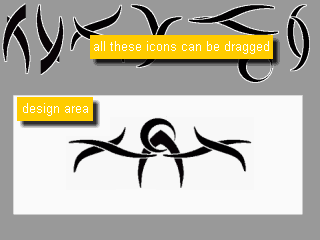 annotated screen shot of tattoo designs program
You can then add a border...
After dragging an icon to the design area you can add and subtract a border. Shown below is a cresent without and with a border. Clicking an icon toggles between the border/no border.



cresent w/out border cresent with border
Full screen...
It's a good idea to run the program 800x600 full screen (i.e., just hit the F11 function key) so that you have lots of room to work with.
Two versions...
There are two versions of the program: classic & svelt. They differ only in terms of the basic icons that they use.


classic designs icons


svelt designs icons